The opening of the Community Function Hall was in 1996 and coincided with a performance of 'Una Festa Di Nozze' by the South Australia Theatre Company Piccolo Teatro. An interesting feature of the hall is the busts representing patrons at the Opera house in Milan that are situated above the changing rooms. These busts were acquired, along with the interior of the Italian Pavilion, from the Brisbane Expo in 1988.
Facilities in the community hall include a small bar area and raised stage at the southern end of the building. The stage area is backed by glass windows designed to look over the Park of Peace. The hall is often used as a church when large numbers of Italians come together to remember and acknowledge the life of a particular community member.
The Community Hall is available for meetings, weddings, family reunions, receptions etc. This venue can accommodate up to 300 people. Catering can also be arranged to suit your needs with competitive rates. For Booking Information visit our contact page.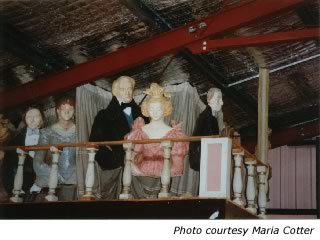 The busts representing patrons at the Opera house in Milan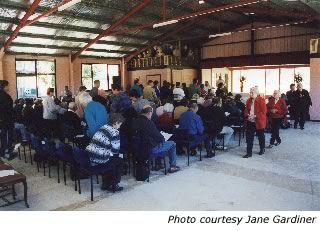 Miazzi mass held in the Community Function Hall