The opening of the Community Function Hall was in 1996 and coincided with a performance of 'Una Festa Di Nozze' by the South Australia Theatre Company Piccolo Teatro. An interesting feature of the hall is the busts representing patrons at the Opera house in Milan that are situated above the changing rooms. These busts were acquired, along with the interior of the Italian Pavilion, from the Brisbane Expo in 1988.
Facilities in the community hall include a small bar area and raised stage at the southern end of the building. The stage area is backed by glass windows designed to look over the Park of Peace. The hall is often used as a church when large numbers of Italians come together to remember and acknowledge the life of a particular community member.
The Community Hall is available for meetings, weddings, family reunions, receptions etc. This venue can accommodate up to 300 people. Catering can also be arranged to suit your needs with competitive rates.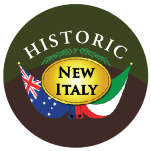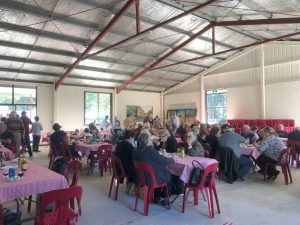 Alpini Association visit 2021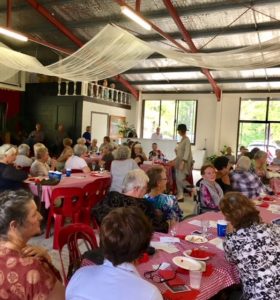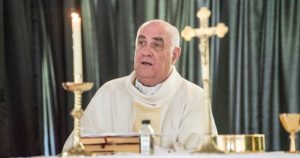 Carnevale Italiano Mass 2016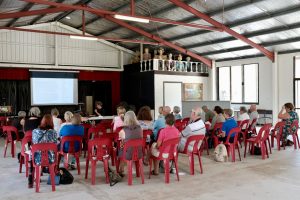 Aust. Museums & Galleries
Far North Coast Chapter 2019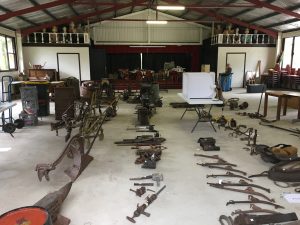 Museums group sorting the
collection for upgrade 2017
HIRING INFORMATION
HIRE RATES:
Hall – including Kitchen (when completed): $50 ½ day; $100 all day
Kitchen and Outdoor Area Only: $25 ½ day; $50 all day
NOTE:
• Not for profit groups/New Italy and local community residents: 50% discount on above rates
• Security Bond: $250 – $1,000 payable at discretion of New Italy Museum Inc.
• Persons wishing to use the parkland for functions should make separate enquiries with New Italy Museum Inc.
info@newitaly.org.au • 0414 673 933
• The New Italy Museum Inc. reserves the right to refuse any booking
• Richmond Valley Council or Emergency Services meetings specifically for the New Italy community: free of charge
• Hall generally not available on Mondays – used by Museum volunteers
BOOKINGS & PAYMENT
• Booking enquiries: Ph. 0414 348 566, or Casa Vecchia Gift Shop Ph. 0484 267 632 (between 9.30am and 3.30pm, 7 days/week), or call in to the Casa Vecchia Gift Shop, 8275 Pacific Highway, New Italy NSW.
• Payment – at time of booking or no later than 7 days before the use of the hall:
a. Cash,
b. Cheque: f/- The New Italy Museum Inc. ,
c. Bank transfer: The New Italy Museum Inc.;
BSB 032 539 Account no. 691 710
FACILITIES AVAILABLE FOR BOOKING
• Internal hall area – 264 m², plus 56 m² of stage area.
Note: hall seats approx. 300, or up to approx. 120 seated at tables.
• 130 plastic chairs (up to 130kg weight bearing); 24 folding tables. A further 100 plastic chairs available if required.
• Drop down screen on stage.
• Relocatable bar within hall.
• Kitchen – gas stove, refrigerator, servery bench into hall, servery bench for outdoor functions (when completed).
• Outdoor area (hard standing) – approx. 50 m².
SURROUNDING GROUNDS
The lighting of fires on any part of the grounds surrounding the New Italy Community Hall is strictly prohibited.
Camping is not permitted on the grounds surrounding the New Italy Community Hall.